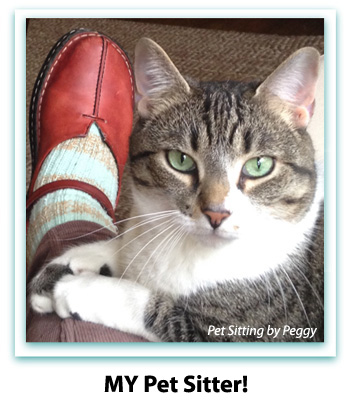 20+ years Pet Sitting experience!
in Homewood, Mountain Brook, and Vestavia, Alabama
Insured and Bonded

Petsitting by Peggy is currently increasing availability for new kitty clients.
At Pet Sitting by Peggy I believe our cats, dogs, and other four-legged friends are more than simply pets; they're family! As a professional pet sitter, and lifelong pet lover, my goal is to respect this fact, and give your pets exceptional care while providing service that exceeds your expectations.
Pet Sitting Designed for Your Pets



Before caring for your pets for the first time, we will meet and discuss them and their particular needs. We'll go over their daily routine such as feeding, exercise, and favorite sleeping places. I'll also want to know their likes, dislikes, any fears, habits, and other unique traits. All of this information will help us put together a care plan that is customized for you and your pets.
During a typical pet sitting visit, I'll make sure your pets have food and water, but will also make sure they feel special and loved. For those who want them, I have plenty of hugs to go around, and maybe even a song or two!
Serving These Areas of Birmingham, Alabama



Homewood
Mountain Brook
Vestavia
Pet Sitting by Peggy Provides the Following Services:



Pet Sitting – Daily & Extended Vacation
Overnight pet care in your home
Pet taxi
Light brushing and combing, and massage
Scoop litter boxes and pick up yard waste
At your request, I am also happy to water plants, put trash cans out, alternate lights & window coverings, and take care of other minor household tasks.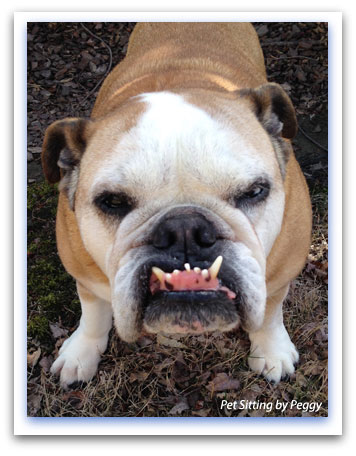 You and Your Pets Can Expect Me To:



Arrive on time.
Give them their meals and snacks at the designated times.
Allow for their exercise, play, potty times.
Administer medications when needed.
Develop rapport, trust, and communication with them.
Listen to their varied means of expression.
Rejoice and appreciate their uniqueness!
I am bonded, insured, and a licensed business in the areas of
Homewood, Mountain Brook, and Vestavia, Alabama.