Pet Sitting by Peggy offers daily cat sitting, single visit sitting, extended vacation sitting, and overnight sitting services. My service area includes Crestwood South, Forest Park, Highland Park, Homewood, Mountain Brook & Vestavia.
I offer exceptional cat sitting services and keep an eye on your house as well!
---
CAT SITTING SERVICES OFFERED:
Initial Consultation:
I offer a no-obligation consult in your home to meet you and your cats. Even if you don't have exact travel dates in mind, a simple introduction will promote a sense of peace and calm for yourself as well as your cats. Planning for your trip will be much less stressful, when you are able to call on a sitter whom you know. I'd love to be a part of your process!
ALL CAT SITTING VISITS ARE $25
INDOOR CATS ONLY
---
VACATION CAT SITTING SERVICE: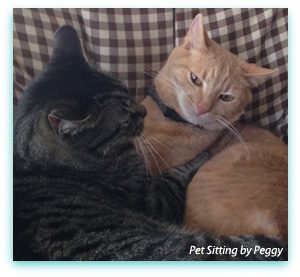 The care and activities performed during each visit will be customized for your cat's individual needs, regardless of how many are in the household.
My goal is to keep your cat schedules and routines intact.
You can also expect mail and newspaper retrieval, rotation of lights, trash and recycling to curb, indoor plant care, and light outside watering. I pick up and remove all cat waste.
ALL CAT SITTING VISITS ARE $25
Cats must have a minimum of one visit per day.
---
PREMIUM LUXURY OPTION
OVERNIGHT CAT & HOUSE SITTING
This type of service is on a first-asked, first-served basis.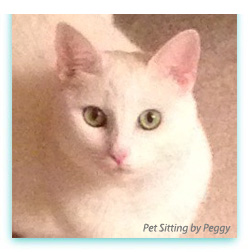 This service is designed for those cats that need a little extra companionship and tender loving care. If your kitties are used to having someone home with them each night, then let me stay with them when you are away! I will ensure they keep their bedtime routine, whether it includes tucking them into their own bed or snuggling up together in the big human bed! As a side benefit, I not only care for your cats, but I keep an eye on your house too!
---
GAS FEE:
Gas fees will be discussed upon initial inquiry, and/or consultation. My car is my 3rd arm!
---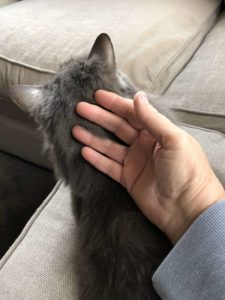 UPDATES ON YOUR CATS:
I'm happy to send updates; we will discuss upon hiring.
No charge
---
HOLIDAYS:
No extra charges!
---
EXTRA VISITS:
Your cats may desire an additional visit during any Extended Vacation, Daily, or Overnight Care Package.
$25 per visit
---
TRANSPORTATION:
Driving your animals to and from veterinary appointments, daycare services and groomers.
$25 one way, $40 round trip
---
VETERINARY REQUIREMENT:
I only work in homes with cat who have a regular vet and are up to date with their vaccinations, etc.
---
REFERENCES:
I am happy to provide.
*Calendar day ( i.e., Feb. 1st, 2nd, etc. )