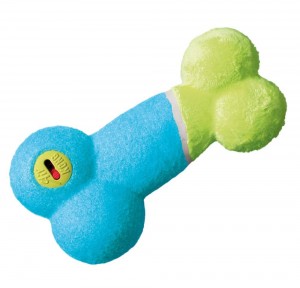 With all the innovation occurring in the pet supply world, it's easy to find yourself attracted to a cool new product for your fur-babies. However, it is becoming increasingly important to buy products that you trust and that will ensure the safety of your beloved pet. The Kong brand is super reliable and sticks to the basics.
It provides your pet with an enriching, fun experience while also incorporating features that please YOU, the owner. For example, I am in love with the design behind their new chew toys. Made of sturdy tennis-ball-like material, these toys have the typical squeak feature to keep your puppy entertained and focused.
The handy thing about these, though, is the clever on/off switch that can be pressed only by a human. That way, in the daytime, your pup can squeak to its heart's desire. When it's nighttime and you're trying to catch some Zzz's, however, you can simply switch the toy to off mode to silence the squeak, all the while allowing your pet to still enjoy their toy. Kong's chew-toys come in many different shapes and colors perfect for any size dog; I definitely recommend them as a fun way to keep your pup entertained and active. The Kong Squeaker Bone can be purchased through Amazon.com.